Today is Valentine's Day, a day when people go the extra mile to express their feelings to their loved ones. On this romantic holiday, let's have a look at some love stories that may touch your heart.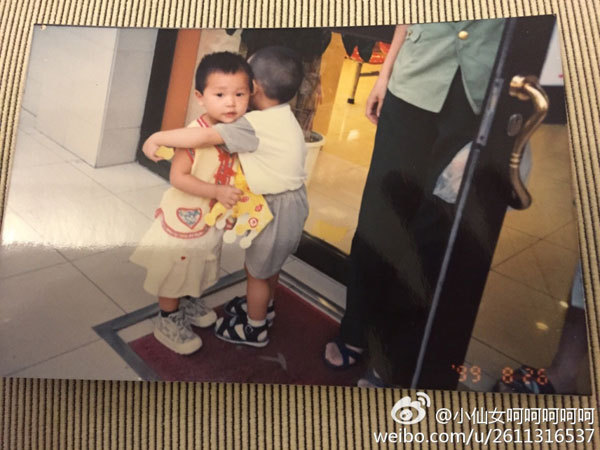 Woman searches for boy who hugged her 18 years ago
Do you remember your childhood playmate? In North China's Tianjin, a woman posted two photos on Sina Weibo in search of a boy who gave her a hug 18 years ago.
"Looking for the boy in gray clothes," the woman with the online name Xiaoxiannv Hehehehehe said in a post on Feb 3.
The woman said she met the boy in a cake store on Aug 18, 1999, her second birthday. She said the boy looked at her through the glass door, and when the door opened, he rushed to hug her.
The woman said she stumbled across the photo in an old album and decided to look for the boy because she was touched by the childhood memory.
The post attracted much attention as major media outlets and netizens forwarded it to help her find the boy.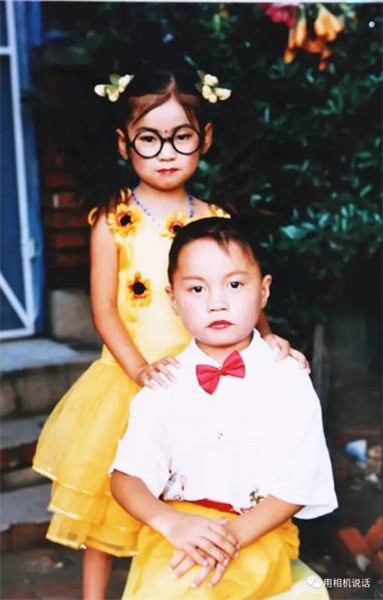 'Wedding photos' tie couple together
Childhood memories are cherished throughout our lives. That is the case in a story of two childhood playmates who playfully took wedding photos and actually got married when they grew up.
Gao Lin and Gao Tian were close friends as children. Both families ran photo studios in Yanshan, Hebei province.
When they were five years old, their parents proposed that the two take a series of "wedding photos". Later, Gao Tian moved away when his parents changed jobs. The playmates went more than 10 years without seeing each other.
In early 2014, Gao Tian visited Gao Lin's parents with his father, and set his eyes on his friend for the first time in many years. Reminiscent of childhood memories, the pair soon fell in love.
About a year after their reunion, they had a real wedding.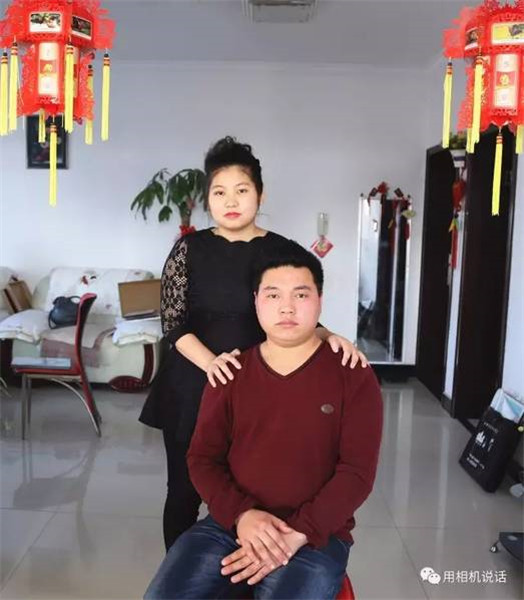 Couple finds unexpected link in blood donation
"Life is like a box of chocolates, you never know what you're gonna get." As Forrest Gump said, fate is an uncertain, magical thing. In an extraordinary case of blood donation, the fates of the donor and the beneficiary became closely tied together.
Nine years ago, Lin Xiaofen went to a hospital in Taipei after getting very sick. She fell into coma and suffered massive blood loss. She was only able to make a narrow escape after receiving a large blood donation.
Recently, Lin shared the experience with her boyfriend Lian Zhicheng. The man, who is a frequent blood donor, jokingly asked: "Maybe it is my blood?"
Curiously, Lin checked the records of the hospital where she received the blood. To her surprise, the donor who gave out his blood to her nine years ago was really her current boyfriend.
After knowing this, Lian said humorously: "Go donate your blood now, because you have a chance to bring a wife home."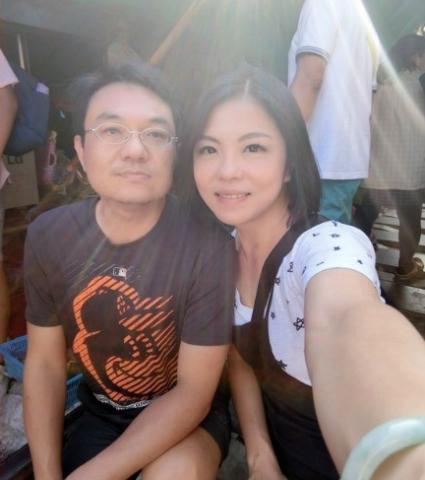 Couple follows their hearts on epic journey
There are numerous ways to express love, but Ding Yizhou chose one that few would adopt: following a heart-shaped itinerary around China with his girlfriend, who uses a wheelchair.
Ding, 27, embarked on the trek from his hometown of Liuzhou, Guangxi Zhuang autonomous region, on Jan 3, 2015.
The journey was inspired by a wish of Ding's girlfriend Lai Min. She was diagnosed with hereditary spinocerebellar ataxia when she was 21. The progressive, degenerative disease has left 28-year-old Lai unable to walk.
Lai told Ding that she would like to go out and use a camera to record her visits to places across China, rather than stay put and wait to die. That inspired Ding to come up with the idea for this adventure.
Ding modified his girlfriend's wheelchair to make it more suitable for long-distance travel, and he used an Old English sheepdog to pull the wheelchair, while he rode a mountain bike.
Ding earned money by doing hairdressing and odd jobs along the way.
Ding and Lai married in Lhasa, Tibet autonomous region, in July 2015, and they are still on their journey to finish the heart-shaped itinerary.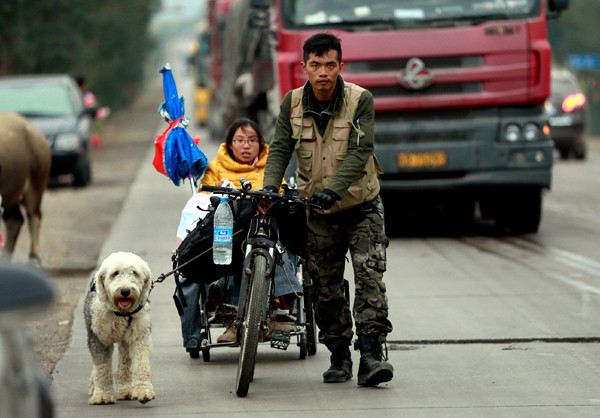 Couple marries at the bottom of earth
There is no doubt all lovers hope their wedding is unique, but few have a chance to fulfill their wish. However, a pair from Beijing fulfilled their childhood dream by marrying in the Antarctic.
Zhang Xinyu and Liang Hong have been friends since childhood. They led a normal life before 2008, when a devastating earthquake jolted Sichuan province, showing them how fragile human existence can be. That prompted the pair to make the most of life.
In the following years, the couple traveled through strife-torn Somalia, wandered at Chernobyl in Ukraine, shivered at Oymyakon, the coldest place in the northern hemisphere, and sweltered at the lava flows of Marum, one of the world's most active volcanoes.
From July 2013, the pair made a 35,000 km-trip across the Pacific Ocean in a yacht named "Beijing". More than half a year after they set out, the pair arrived in the Antarctic where they held a wedding ceremony on Feb 25, 2014.
The couple is now on another worldwide trip via airplane.