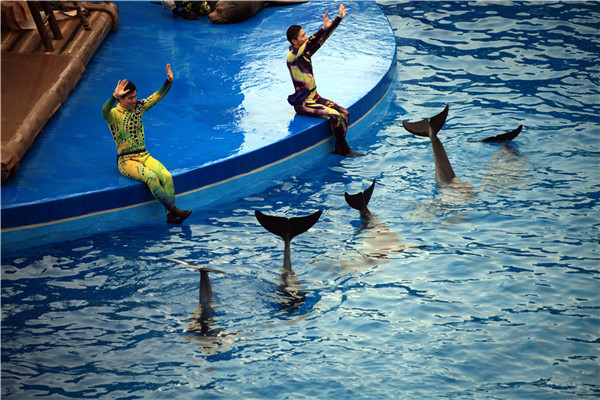 Fish. Rides. Performances.
Jazmin Chi and her daughter adored Hong Kong's Ocean Park.
The 27-year-old Mexican says they enjoyed the Grand Aquarium, roller coasters and shows.
She believes the place offers an enjoyable opportunity to learn about such animals as pandas and penguins.
"The performances were great and in the middle of everything," she says.
"We were just walking and suddenly a bunch of people started a performance ... It's huge, and transportation is so efficient."
Chi and her daughter also visited Hong Kong's Disneyland.
American Karan Sandhu says her favorite experience at Disneyland is Toy Story Land, which includes the Toy Soldier Parachute Drop-a thrill ride where visitors can drop with toy soldiers during a parachuting drill-a Slinky Dog ride for all ages and RC Racer-a U-shaped roller coaster. Visitors can also meet the characters from the Toy Story franchise.
Some aspects, such as the castle, remind Sandhu of the Magic Kingdom in Florida's Disney World.
The summer-vacation period is the peak time for visits to China's theme parks.
Several of the country's parks rank among the world's 20 most visited. The 2015 AECOM and TEA Theme and Museum Index Report lists Chimelong Ocean Kingdom in Guangdong province's Zhuhai at 13th, Ocean Park at 15th and Hong Kong Disneyland at 19th.
Hangzhou's Songcheng Theme Park in Zhejiang's provincial capital ranks 17th and is Ma Ruilu's favorite for its shows, haunted houses and workshops.
"I like the shows there," the 25-year-old tourist says.
"You can feel Song Dynasty (960-1279) culture."
Jilin province native Wang Tingting visited Jiangsu province's China Dinosaurs Park for her niece's benefit-but also enjoyed herself.
"There were lots of exciting games and attractions," the 22-year-old says.
"I enjoyed watching others being scared to death."
It proved a true blast from the past.
Paige Sheffield contributed to the story.