Big profits creating a buzz about the unmanned flying contraptions, with China in the pilot's seat
Drones - also known as unmanned aerial vehicles, or UAVs - are big business. Previously the domain of the military and enthusiasts who made them at home, the last three years have seen newer, more advanced models flying off the shelves.
During the Christmas season last year, drones were a popular gift on wish lists worldwide. About 1 million UAVs were sold in the United States alone, making North America the biggest buyer globally.
Yet since the US Federal Aviation Administration ordered drone pilots to register online earlier this year, figures show that more than 50 percent of US-owned drones are Chinese models. They're not simply made in China but designed and developed here.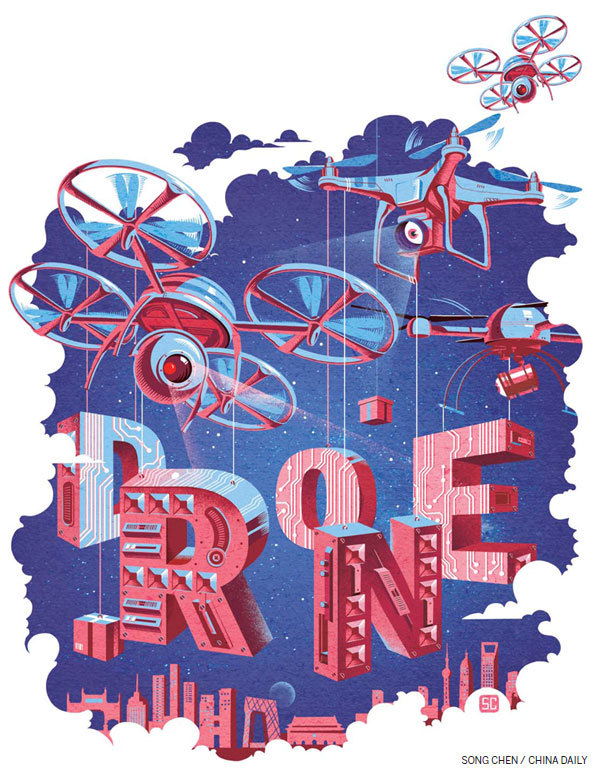 According to Dronelife.com, more than 500 drone manufacturers exist globally. Of those, some 400 are Chinese. Of the 13 most popular brands in 2015, no fewer than eight were Chinese.
When it comes to the world of consumer drones, it is safe to say that China dominates the market. Market research firm IDC recently determined that sales of commercial-quality drones in China will hit 950,000 units by 2019 - a rise of some 300 percent over four years.
Zhao Jianhua, a film director in Beijing, says that UAVs are used in the shooting of almost all his films, especially when they require scenery or outdoor scenes.
"UAVs have basically replaced the long waving-arm that was traditionally used. UAVs are very convenient and can offer very different shooting angles, and the cost can be even cheaper than the traditional way of shooting," he says.
Zhao says that UAV technology is now established in the film industry, with manufacturers cooperating with directors and photographers to fulfill the specific demands of clients.
Adam Najberg is global director of communications for DJI, the world's biggest civilian drone manufacturer.
He says the company, based in Shenzhen, in South China's Guangdong province, experienced "crazy growth" last year.
Between 2009 and 2014, the company's sales are said to have trebled each year. Last year DJI raised $750 million (687.9 million euros; 597.2 million) from US venture capital firm Accel, based on an $8 billion valuation. According to Forbes, DJI claims a 70 percent share of the global drone market.
"Last year I think we were around $1 billion in sales," says Najberg. "That was roughly double the previous year."
The 2015 DJI Phantom 3 drone is now selling at about $800, and the professional DJI Inspire 1 clocks in at more than $3,000 - not bad for a company that just 10 years ago was run by three colleagues out of a Shenzhen apartment.
Founded in 2006 by Frank Wang Tao, a Chinese mainland alumnus of the Hong Kong University of Science and Technology, DJI started off selling accessories for DIY drones. The company's big break came with the release of the first in the Phantom series in late 2012.
Four years and four iterations later, the sleek white fliers are a staple of the drone industry. Used as a toy and for tasks as varied as moviemaking and terrain mapping, DJI's popularity has been compared with that of tech giant Apple.
After all, both have cornered their respective markets with plug-and-play technology wrapped inside a user-friendly exterior.
So how has China managed to pull it off? For decades, China has been the center of global manufacturing, nowhere more so than in Shenzhen, the so-called workshop of the world.
The drone is a commodity that lends itself well to Chinese manufacturing and, according to some figures, almost 80 percent of the world's UAVs are now put together in the city's factories.
"Like most things, cost plays a huge factor in how successfully a product sells," says Ben Grear, operations manager for Rise Above Custom Drone Solutions. The Australian company sells and adapts UAVs for clients including universities, police and local government.
"China is able to design and manufacture many electronics and parts far cheaper than most other countries, so this plays in its favor."
Lu Zhangyuan, a senior analyst with the Gaogong Industry Institute, says China has a mature drone industry supply chain, especially in Shenzhen. It is convenient to buy all the parts for drones at low cost. Moreover, with technological development, the cost of hardware, such as sensors, magnetic compasses and accelerometers has decreased by about 20 percent this year.
ZDNet, a technology analysis website, reported that exports of civilian drones from China increased by almost nine times in 2015. The total value was said to be in excess of 2.7 billion yuan ($404 million; 371 million euros; 320.6 million).
DJI's Najberg says "first-mover status helped a lot" in pushing his company's sales.
He adds that the popularity of drones in Asia is underscored by affordability, more disposable income among the middle class and growing interest stemming from media exposure.
Gary Clayton is the chairman of the Unmanned Aerial Vehicle Systems Association, a British-based group that represents drone users.
He says he can trace the surge in sales to three key technological factors: The development of advanced batteries, allowing vehicles to stay aloft longer; new regulations on how unmanned systems can comply with aviation authorities; and the fact that recreational use has pushed down manufacturing costs, ensuring competitively priced, high-end models for professionals.
But even if DJI is currently miles ahead of the opposition, it is not alone in the race.
French drone maker Parrot and other Chinese firms like Yuneec - in which US-based chipmaker Intel invested $60 million last year - have been competing in the market for years.
Even Xiaomi, the Chinese electronics company known for its smartphones, recently unveiled its own drone. The mini flying machine costs only 2,999 yuan and is equipped with a professional-grade camera.
As more - predominantly Chinese - players rush into an increasingly congested market, drones with similar specifications and hardware have become available to buyers. With the actual technology cheap and production costs low, many companies are choosing to compete with cheaper prices rather than better technology.
Najberg says: "The gauntlet we are figuratively throwing down every time we have a new drone is, if you want a premium drone at the top of the market, you'd better have these features. Otherwise, what are you charging us for?"
But with China as the dominant party in the market, some are asking whether it is possible for companies to compete on a technological level.
American drone manufacturer 3D Robotics has refocused itself as a drone provider for big businesses, where profit margins are higher and production costs are less problematic. At the same time, the company also moved manufacturing from Tijuana, Mexico, to Shenzhen.
"China will always have the edge in the raw manufacture of components," says Grear, of Rise Above. "However, there is plenty of room in the industry for local manufacturers and designers to provide innovative solutions outside of the mainstream."
Despite this hope, high-profile investments - such as Intel sinking around $127 million into nine Chinese tech and drone companies last year - have gone into bigger UAV companies. Non-Chinese startups and designers, by comparison, have been mostly left out of the loop.
One company shooting for success is Playable Creation, a Hong Kong-based toy manufacturer. It recently demonstrated its own locally-designed drone, the Konsept VR32.
Kennes Cheung, co-founder of the company, says although many customers look for low-cost, cut-price models, there is strong positive feedback toward alternative manufacturers.
"We are absolutely tired of price wars," she says. "That's why we formed Konsept."
Capitalizing on the interest in cutting-edge technology, the fist-sized VR32 drone is piloted through virtual reality goggles. Pilots live-stream what the drone's camera sees, as if riding onboard. Cheung says interest has already come from the US, Britain and elsewhere in Asia.
But despite Hong Kong's talent and technological expertise, manufacturing continues to serve as the deciding hurdle.
The cost of making a drone on the Chinese mainland can be one-third of making it in Hong Kong, says Cheung. Government grants are available but are difficult to get, she adds.
"I wish the Hong Kong government could lower the requirements and simplify the procedures so that more companies could enjoy funding."
Wang Boxue, a senior researcher of the Aviation Development Research Center of China, says the drone industry is in a rapid growth period and is becoming more competitive. Some companies will definitely drop out. He suggests that the government should strengthen regulations on the quality of and safety of products.
"We should also strengthen intellectual property rights protection, and encourage companies to invest more in technological innovation," he says.
While Clayton of UAVSA does not believe Europe can ever compete on manufacturing costs, he sees a time coming when China's dominance may not be guaranteed.
"China has increasing wage expectations and figures show that consumerism is growing," he says. "There will inevitably be a tipping point, and manufacturing decisions may move to the next developing economy."
Whether the drone crown can be snatched away from China, or whether the market fragments into dozens of small competing firms, remains to be seen.
Contact the writers at anthony@chinadailyapac.com and chenyingqun@chinadaily.com.cn
Drone facts
Cost: The price of consumer drones varies. Those featuring cameras normally start at around $450, with advanced models costing up to $3,000. A typical drone with customizable features and semi-autonomous controls costs around $1,200.
Flight time: Typical flight time for a commercial drone is 20 to 25 minutes, with some professional models being able to remain airborne for up to 45 minutes.
Weight: A typical consumer drone is likely to weigh between 1 and 2 kilograms, although smaller drones may weigh less than 500 grams.
Common uses: Popular uses of drones include hobby flying, cinematography, terrain mapping, prospecting, surveillance, agriculture and racing.
Drones are machines - whether in the air, on the ground, or above or under water - that do not need to have a pilot inside to operate them. The drone is guided by remote control from another location, sometimes thousands of meters away. Most laws require civilian pilots to keep their drones in sight.
Modern drones were developed by militaries in the 1960s, but it was not until the late 1970s that civilian drones were first used in Japan to spray crops.
Public interest in drones remained a niche concern until the 2000s, when the media generated interest in military drones and producing drone kits became cost-effective.
The first drones aimed at consumers began to appear around 2010, with the Phantom model by DJI from the southern Chinese city of Shenzhen being among the most popular.
Many movies and television shows, including Skyfall, Jurassic World and Game of Thrones, have used drones to capture scenes, while drone racing is now a sport. In May, the winner of the World Drone Prix in Dubai scooped up $250,000 in prize money.