Smart machines do the job as rising costs and labor shortages hit investors in Guangdong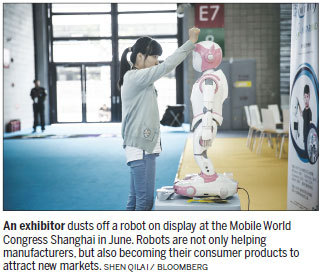 As Guangdong province restructures and upgrades its industrial sector, Hong Kong's traditional manufacturers are cashing in by developing intelligent robots.
Since the Chinese mainland's opening-up, the province has lured many companies from the SAR to start factories across the border, taking advantage of the low labor and real-estate costs. But now, they're facing soaring production costs and acute labor shortages.
Robots breathe new life into HK manufacturers
Liu Ning, dean and professor of Guangzhou-based Jinan University's Research Institute of Robot Intelligent Technology, said another major challenge for traditional manufacturers is that orders are not evenly distributed throughout the year.
He said the ratio of workers required during peak periods compared with the rest of the year is five to one. This means Hong Kong companies are feeling the pinch.
Starlite - a Hong Kong-based and listed group involved in the traditional printing and packaging business - is one of them, seeing its net profit plunge 82 percent for the year ended March 31 2015.
Founder-Chairman and Chief Executive Officer Lam Kwong-yu said his colleagues in the sector, including toys and clothes manufacturers, have been forced to relocate their factories out of the region.
He expressed understanding and sympathy for their plight, noting that the minimum salary for blue-collar workers in Shenzhen is 3.7 times higher than that of their peers in Mexico, and double that in Myanmar.
But, Lam chose to stay in Guangdong, with Starlite having increased its investment in mainland factories instead of following others and move out.
The company had also opened a new intelligent factory in Shenzhen in October, utilizing self-owned robots to solve the problem of labor shortages.
Lam said the new factory, Qianhai Larsemann Intelligence System (Shenzhen) Co Ltd, has developed some 100 "smart" machines.
One of them is the "Smart Turntable" - an automatic bead applicator capable of handling glue application and the precise placement of circular beads, which are normally operated manually and used in making greeting cards.
This new development has quickened production by 30 percent, and can replace up to eight workers per machine, according to Starlite. Lam said that, in the past, production would need about 10,000 workers, but the new investment has now cut the number down to between 5,000 and 6,000.
"Meanwhile, both our production ability and quality have gone up remarkably."
Robots breathe new life into HK manufacturers
Lam said withdrawing from Shenzhen cannot solve the problems faced by Hong Kong's traditional manufacturers. But, transforming to "Industry 4.0" - which further embeds automation and data exchanges in manufacturing - can.
He's confident that with such an upgrade, SAR manufacturers can introduce intelligent factories in the United States and Europe in a bid to become more market-driven rather than labor-intensive.
Robots are not only helping Hong Kong manufacturers in Guangdong, but also becoming their consumer products to attract new markets.
Jetta Co Ltd - a Hong Kong toys manufacturer based in Guangzhou - is changing course by investing in innovative electronic products and high-tech toys.
Chief Executive Officer Huang Dazhi said in October that only 30 percent of the company's products lacked any electronic element.
The boom in startups and innovative makers in Guangdong has also inspired traditional manufacturers with a stream of new products, and some startups have even become part of their new client base.
Hong Kong-based Lung Cheong Toys Ltd (LC Toys) organized a competition in Dongguan last month, drawing more than 8,000 participants. Those with projects relating to interactive robots, virtual reality devices and early education robots for children were among the winners who managed to seal manufacturing contracts with the company.
LC Toys used to produce non-electronic toys, but has now shifted its focus to educational robots for children, as well as service robots for smart home and healthcare robots for elderly people.
It has upgraded its Dongguan factory to become a development and research headquarters to innovate robot workers and products.
Leung Chung-ming, managing director of LC Toys, said the development of the second-child economy and a rising elderly population on the mainland will create new opportunities for the company.
However, manufacturers still have to confront critical problems, such as technology and talent, according to Guan Hongling, associate professor at the Center for Studies of Hong Kong, Macao and the Pearl River Delta at Sun Yat-Sen University.
A recent survey by the university showed that more than one-third of companies in Shenzhen with Hong Kong investment lacked technology in upgrading themselves, while another 30 percent were short of talent.
While larger companies with high profit can invest in smart manufacturing, it's not easy for smaller ones to execute, Guan said.
Liu said industrial smart robots still remain too expensive for some factories. To solve the problem and encourage more Hong Kong manufacturers to upgrade, Guangdong's local government recently enacted several policy changes to aid the industry.
Dongguan now promises to pay for these manufacturers' robot workers in advance, with companies obliged to repay the costs after they have become profitable.
"When the cost of robots and human workers has struck a balance, it'll be the best time to launch more intelligent machines in the market," Liu said.
But, he warned that robots are only one aspect of industrial upgrading, and companies should also set up a digital management system.
"Digitalization is the key to 'Industry 4.0', which could help make business decisions more effectively and precisely based on 'big data' analysis, instead of an individual's experience," he added.