look at Bana Canton Fair
Follow me to have a look how was the Bana Canton fair today?
If you want to have good performance in Canton Fair, great talent is indispensable. Bana team attended preshow training which was organized by OBUCK before departure. Our companions learned a good lesson from Yi boss about the solutions of a series of general problems which made the exhibitors headache. Such as how to talk with the customers initiatively to solve the awkward atmosphere and calm down the situation, how to invite the customers to the booth, how to know the customers' requests and so on. All of us have got so much from the training.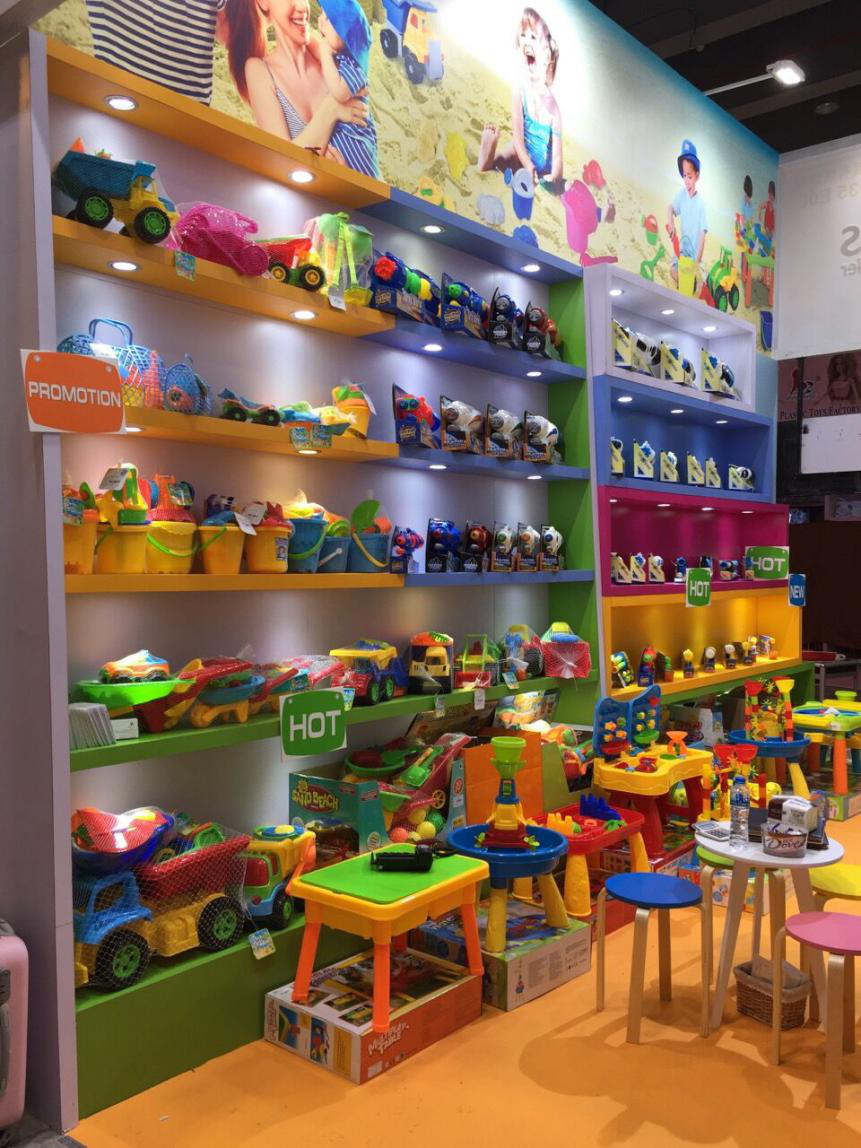 Apart from getting the tips from Yi boss, we certainly have a clear target, our target is transcend, transcend and transcend!
In order to inspire us to try our best to achieve the target,it cost our master a lot!
Everyone has his own unique skill, started off following the step of "Sea horse".
We bumped along the whole trip, although everyone was tired, we started preparations as soon as we arrived at the Canton fair exhibition hall. Our goddesses instantly became iron ladies, busy in installing the desks and assembling the products and gained joy from the preparations.
I can't help exclaiming that our adults' intelligence quotient almost can't catch up with the children because our companions assembled the beach toys for more than ten minutes.
After feverishly tidying the samples and putting them away, an vigorous Bana booth appeared on the scene twinkly.
It is one of the features of this booth that using eye-catching color lumps to differentiate the products. The leading products were our signature beach toys and water guns this time which were distinguished as hot, new, promotion, general boards . In order to make customers fully understand at one glance.
All was prepared, we ushered in the good start of the exhibition.
Customers come in hustle and bustle, our companions were so bush that they couldn't attend to them all.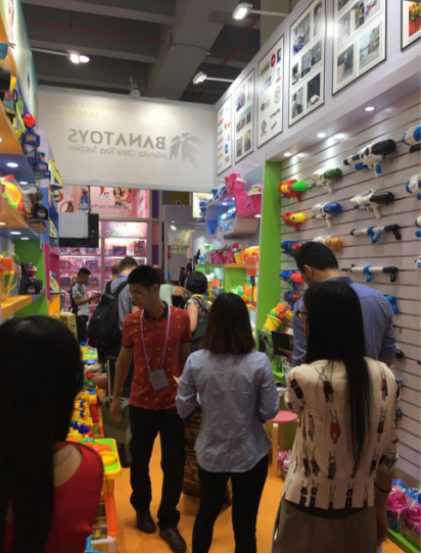 The scene was constantly hot, even if turned-off booth light still couldn't stop customers' passion. It was so lively that our boss could only devote himself to the scene in person, Amor appeared and ignited the whole scene!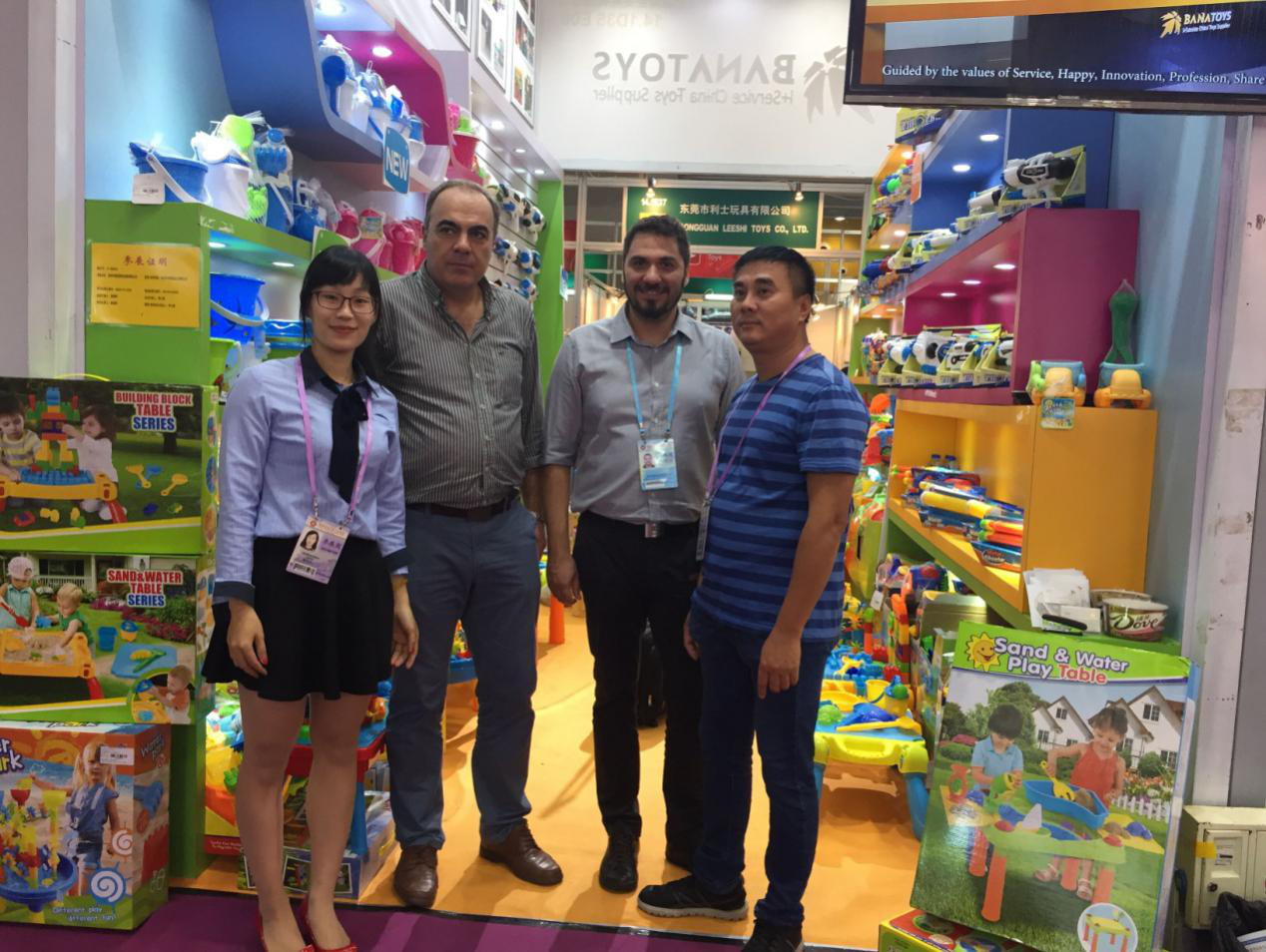 Along with the hot scene,good news following one by one, we received the orders constantly in the scene, 300 pieces, 8 HQ!
People all exclaimed that they had never seen such hot scene for a long time. It is said that canton fair is always regarded as wind indicator and barometer of foreign trade ,so it seems that Banatoys soon will have a another new success!
So, do you want to ask why guests of Banatoys' booth were always continuous? We won't tell you it was because our nadia had this red suppressing booth artifact! You can find the answer in the picture.
Speaking of which, our Nadia and Happy should be mentioned, they never took a rest for a minute and fought on the front line hearing that our companion of Hongkong Mega show had achieved the target above the quota. In order to transcend the opponents, they worked hard and settled the data till late in the night. let us give our hard-working companions thumbs up !
Exhibition is still keeping on zealously, we hope that Banatoys can achieve better grades!
Welcome people from all works of life have a visit and give guidance!